I'm still getting comments on my Hokkaido milk bread post, and I'm really pleased that's working out for so many bread lovers! I was feeling hungry for some of that bread myself, so fitting that my next baking challenge used the milk bread recipe to make another Chinese bakery classic: Cocktail buns, or coconut buns, or gai mei bau.
These are my very favorite item at the Chinese bakery, the standard I use to judge a new shop. My mom always has a bunch waiting for me when I visit her in Hong Kong. I suppose they're like my Proustian madeline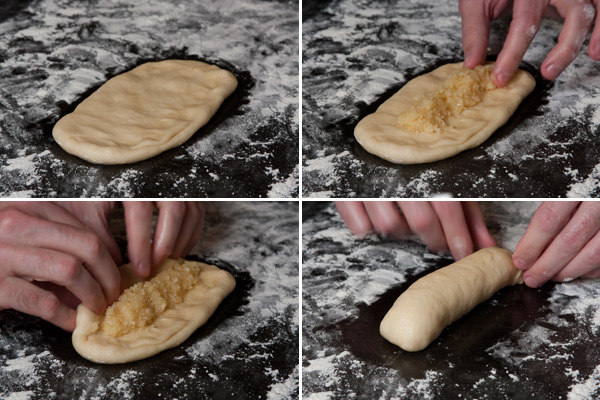 : when I bite into one I'm ten years old again, standing in the Chinese bakery looking at a seemingly endless array of puffy golden buns with confusing names like "melon UFO" and "wife cake". By comparison cocktail bun sounds perfectly normal and appetizing. The cocktail bun is soft, just slightly squishy because of the soft filling inside, and covered in two stripes of sweet frosting and a dash of sesame seeds.
I bite one end of the bun off and it always starts the quiver of anticipation because the end part never has any filling, so I'm waiting for the next bite that will reveal the interior, a curved rim of bread over a golden ball of sugary, coconut-flecked sweetness.
It's almost too rich for me to finish but it's so good I can't stop, and it always ends only when there's just crumbs left on my fingers.
some Chinese bakeries will sometimes have an item called "Coconut Cream Buns" which look like a long bun split in half and filled with whipped cream and coconut.